This enhancement simplifies the process of correcting optical distortion caused by a camera lens.

There are two modes for this filter. Manual mode allows you to make adjustments to improve the image when the camera type is not known. The Camera Presets mode allows you to automatically apply the filter for commonly known commercial camera types.
Manual Mode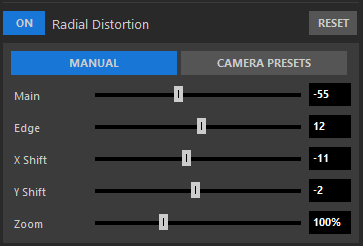 | | |
| --- | --- |
| Main | Specifies the amount of spherical correction that may be introduced. Positive values make the image convex while negative ones make it concave. The whole effect is similar to wrapping the image inside or outside a sphere. |
| Edge | Specifies the amount of additional spherical correction at image edges. |
| X Shift, Y Shift | These two options specify the shift of the image produced by not perfectly centered pairs of lenses. This option produces visible results only if the Main or Edge options are non zero. |
| Zoom | Specifies the amount of the image enlargement or reduction caused by the hypothetical lens. |
Camera Presets Mode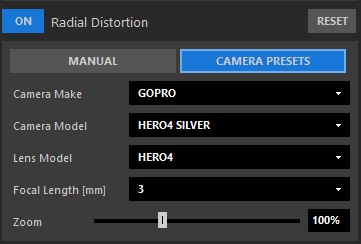 This mode enables you to quickly select presets for correcting potential radial distortion effects caused by a specific lens. In order to correct the potential lens distortion, you need to know the camera make & model and/or the lens model & focal length.